Media releases from Life Values Pty Ltd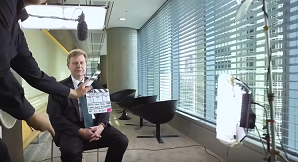 This section of our site is used for;
Media releases financial planning topics
Responding to journalist, TV and photo inquiries
General media related inquiries
Letters to editors in Australian newspapers on departmental issues
Telephone: Peter Bowman on 0417 43 77 82. You can also email editor(at)amweek.com.au
About Robert Snell:
Robert has been a passionate advocate for first homebuyers for many years and has seen the challenges first hand with his client base. Parents of adult children and young adults themselves increasingly worry about how they will ever be able to afford to buy a home. He also worries how his son might ever afford to buy a home in Sydney. He has written and submitted a White Paper called, THE REAL HOME TRUTH: Why Unaffordable Housing for Young Australians Hurts Us All. It explains historically how we got to this situation in Australia and how we can turn things around. Click here to read more about Robert.
Robert Snell is available to discuss:
Financial planning matters
Budget measures both State and Federal on Housing Affordability
Tips on Saving
How to get your first home
What the country should do to solve this problem and its historical context
HECS/HELP and affordability
Provide case studies
Robert holds a Degree with Majors in Economics and Political Science and a Diploma of Financial Planning. Robert is a recognised as an SMSF Specialist AdvisorTM and a Certified Financial Planner®. Unlike other advisors, Robert has been a fee-for-service advice provider for more than 29 years. Robert Snell is an Authorised Representative, and Life Values is a Corporate Authorised Representative of Financial Services Partners Pty Ltd AFSL 237 590 ABN 15 089 512 587. The views expressed in these releases are solely those of the author; they are not reflective or indicative of the licensee's position, and are not attributed to the licensee.
Media Release (and Coverage) List
Position Paper – The Real Home Truth – Why unaffordable housing for Young Australians hurts us all
10 May 2017 – Housing affordability expert comment on budget – Quotes and exploration of theme
26 May 2017 – What you didn't know about housing affordability and the upcoming NSW State Budget
29 May 2017 – The NSW State Opposition speaks up about the housing affordability crisis
2 June 2017 – Expert Comment on NSW Government Budget Housing Affordability Measures
9 June 2017 – Insipid Statistics – How housing affordability statistics hide the shameful truth about home ownership in Australia
19 June 2017 – We Are Measuring Housing Affordability All Wrong
20 June 2017 – Expert Comment, NSW State Budget on Housing Affordability.  The new measures, will they help?
12 July 2017 – The Rise of the Adult Child Who Can't Or Won't Leave Home
18 July 2017 – This Property Bubble Will Changes Australian Society and The Government Doesn't Care  Alt title – Census confirms housing affordability crisis: Increasing number of rental households and Australians living within them, still no coordinated Government Housing Policy on the horizon
19 July 2017 – More adults are living at home with parents because they can't afford a home (additional quotes)
25 July 2017 – There are now more renters than owners in over 150 Local Government areas and with failing government policies its going to get worse
25 July 2017 – Census 2016: Renters on the rise (quoted)
27 July 2017 – More than a million dwellings in Australia are unoccupied (quoted)
28 July 2017 – Renting is the new norm (quoted)
18 August 2017 – Game of homes: How to own a home without killing off the parents (or grandparents) – includes Tips
22 August 2017 – There's A Simple Fix To Housing Affordability But The Government Isn't Interested
14 September 2017 – First home buyers find success with advice and coaching
15 September 2017 – Lifelong renters need a plan (quoted)
16 September 2017 – Consumer Warning: Banks and Mortgage Brokers launch first home coaching service that sells debt, consumers may end up losing their shirt rather than releasing their dream
5 October 2017 – Seven ways you can increase your savings, long term (quoted)
22 October 2017 – Housing Affordability discussion, Robert appeared on 2GB's Sunday Evening with Natalie and Michael (phone in) , 22 October 2017 – 1:04 to 1:09. (Ref:http://www.2gb.com/podcast/sunday-evening-full-show-october-22nd/)
26 October 2017 – The fraught financial decisions that crazy house prices are forcing parents to make
28 October 2017 – Enquiries from interstate buyers looking to move to Queensland on the rise (quoted)
19 February 2018 – Robert appeared as a Housing Affordability Expert on The Project advocating for first home buyers
11 June 2018 – 'House it going' – Interview on 2ser 107.3FM